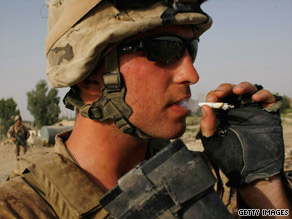 Over the weekend, CNN reported that Veteran Affairs along with the Pentagon has commissioned a new study recommending a complete ban on tobacco. The ban would end tobacco sales on military bases and prohibit smoking by anyone in uniform. The study recommends phasing out tobacco products such as cigarettes and cigars over a five- to 10-year period. The study has been receiving mixed reactions from military personnel, Soldiers and the Department of Defense.
So how you feel about the possible ban? Leave us your comments.
Click here to view the CNN report.